Australian Natural Soap Blog
Natural soap is great for the skin, the environment and understanding the ingredients that are in your skincare routine. Handmade and natural soap has been made in the same way for hundreds of years and the ingredients list is completely transparent. Knowing the ingredients in your soap and cleansing products is especially important if you have sensitive skin or there are certain ingredients you want to avoid. Here's what to look out for in natural soap, and how it can help your skin. What Ingredients Should You Look For In Natural Soap? For a skin-friendly natural soap, there are some...
---
  If you're looking for a more sustainable, environmentally-friendly soap that's better for sensitive skin then you should choose a natural soap. What Is Natural Soap? Natural soap is, quite simply, soap that's made from natural ingredients like natural oils, butters and fats. These ingredients are harvested in nature and don't contain harsh chemicals and fragrances that can strip the skin, leaving it dried out and damaged. These natural oils and butters are mixed with other ingredients and essential oils to create hydrating natural soap with a beautiful fragrance. Handmade soap that's been made using natural ingredients has been around...
---
Have you ever wondered what makes natural soaps last so long, have consistent colors, maintains their fragrance and rich texture? Let's tell you all about it. Triple milling has been in existence for centuries long, it was invented by traditional soap makers back in the 1700s in France, that's why it's also called French-milled soap. The purpose of triple milling is to make sure that the soap ingredients and constituents are properly mixed. The final product has to be gotten just right so that you can have the attractive natural soap you see. The soap base used in our natural...
---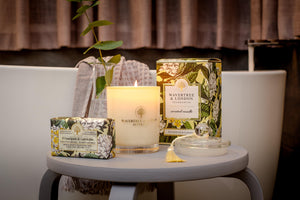 Soy candles have risen in popularity over the last 25 years as an alternative to traditional candles made from paraffin wax. If you're not sure if soy is for you, let's take a look at what soy candles are and why so many people love to use them in their home. What Are Soy Candles? Soy candles are made from soy wax, a vegetable-based wax that's made from soybeans.  The beans are harvested, cleaned and rolled into flakes to extract oil from the soybeans. The flakes are used to feed animals, and the oil is hydrogenated to make it suitable...
---
Sensitive skin is a term used for skins that are prone to allergic reactions, the skin is dry most of the time, delicate and quick to sunburn. Different people with sensitive skin react to different things, it could be detergent soaps, alcohol, or harsh synthetic lathering agents, hardeners, and the likes that can be found in every commercial soap.   If you have sensitive skin, then you already know that not all soaps are great for your skin. Commercial soaps are made with harsh ingredients without consideration for skin types, or the environment that's why natural soaps are the best...